It was my pleasure, at the 2006 reunion of the Navy Musicians Association, to read "We Serve With Honor" while Wilbur Smith conducted the NMA Concert Band in Carmen Dragon's arrangement of "America, the Beautiful." A number of people who were present have asked me about that reading: where it came from, where it can be found.
MUs who served in the 1960s may--or may not--remember "We Serve With Honor." It was printed on the back of their liberty cards, along with "Guardian of our Country" and "The Future of the Navy.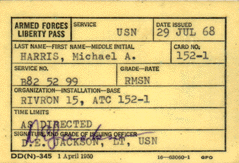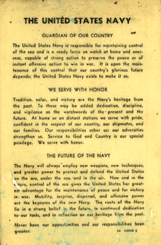 These three statements also appeared in the front pages of Navy training manuals. Naturally, nobody never noticed them; as the saying goes, if you want to hide something from a sailor, put in in his textbook.
But somewhere, sometime in the Sixties, an MU noticed "We Serve With Honor." And that bandsman or conductor made a fortuitous discovery.
Carmen Dragon published his band arrangement of "America, the Beautiful" in 1963. It's a good bet that it made its way quickly into the libraries of military bands. The arrangement is stirring, well-scored and, not incidently, playable. For many, Carmen Dragon's version is not just an
arrangement
of "America, the Beautiful"; it
is
"America, the Beautiful."
That unknown MU must have agreed. He discovered that "We Serve With Honor" could be read aloud to coincide with the phrasing of the second chorus of Dragon's arrangement. It must have had as captivating an effect on audiences as it does now, for the tradition was passed from band to band.
I first read "We Serve With Honor" at Navy Band San Francisco in 1976, our nation's bicentennial year. Navy bands were swamped with requests for patriotic concerts, the frenzy continuing past Independence Day--I recall performing five concerts in five locations on the 5th of July.
But even when the the band was exhausted and not at its best, we could count on "America, the Beautiful" and "We Serve With Honor" to bring an audience to its feet.
That's what I know about the tradition. Here's the text:
WE SERVE WITH HONOR
Tradition, valor, and victory are the Navy's heritage from the past. To these may be added dedication, discipline, and vigilance as the watchwords of the present and the future.

At home or on distant stations we serve with pride, confident in the respect of our country, our shipmates, and our families.

Our responsibilities sober us; our adversities strengthen us. Service to God and Country is our special privilege. We serve with honor.
- - - - - - - - - - - - - - - -
Addendum:
Speaking with Wilbur Smith before the NMA concert band rehearsal, I asked if I should do the reading in the past tense, since we're no longer on active duty.
"For instance," I suggested, "'Our adversities
strengthened
us...We
served
with honor.'"
Wilbur didn't wait a second before replying, "No: do it as written, present tense."
"You're sure?" I asked.
"Yes, " he said. "We're still serving."
Thanks for the reminder, Smitty.